Single Palmar Crease (simian line): Psychology & Behavior!
- INTRO (7/14): Beyond ethnicity & health issues, the simian line also correlates with various types of behavior! -

SIMIAN LINE INDEX (14 sub-sections):
INTRO: The simian line: a minor physical anomaly!
• HOW TO RECOGNIZE Simian Lines?
• WHY THE NAME Simian Line?
• HISTORY of the Simian Line
• ETHNICITY & the Simian Line
• HEALTH & the Simian Line
• PSYCHOLOGY & BEHAVIOR: the Simian Line
• BIG FIVE PROFILING: personality & Simian Line
• PSYCHODYNAMIC PROFILES: the Simian Line
• HAND SIGN TUTOR: Simian Line - quick summary
• FAMOUS PEOPLE with Simian Lines [80+ celebs]
• PROJECTS related to the Simian Line
• ONLINE READINGS for the Simian Line
• SYNONYMS for the Simian Line
Next to being linked with many classic medical problems, the simian line appears also linked with quite a few topics that involve human psychology. These topics vary from severe psychological problems (where it serves as an MPA) to curious theories which sort of claim that the simian line might be recognized to represent a 'gift marker' (which might apply to the famous people who have a simian line).
In multiple studies the simian line has been linked with various aspects of psychological- and/or psychiatric problems, such as (in alphabetic order): deliquent behavior, hyperactivity, neuroticism, and schizophrenia.
Psychology & behavior associated with the Simian Line!
Deliquent behavior:
R.S. Bali devoted in his book, titled: 'Anthropology of Crease morphogenisis' (1994) a full chapter about the behavioural attributes of palm creases. Various studies have indicated that the simian crease (or a 'single radial base crease') is more often seen in the hands of criminals, juvenile deliquents, and even murderers. In the same year a very interesting pioneering study was presented by Ramesh Chaube (in: 'Application and Methodological Perspectives in Dermatoglyphics', 1971), which revealed that the 'single radial transverse crease' (which includes the 'complete' simian line + some of it's related variants) is much more often seen in the hands of various types of criminals (29.25% vs. 11.81% in controls).
---
Hyperactivity:
A study by Robert J. Lerer who found: "... the incidence of simian and Sydney palmar creases was 2 to 3 times higher in the hyperactive children population than in the controls." This tendency was described to be slightly stronger for the simian crease than the Sydney line, but was significant in boys as well as girls.
---
Schizophrenia:
Especially the work of the Polish psychologist Charlotte Wolff should be mentioned in this perspective. Wolff's research results on the simian crease in schizophrenic patients has been confirmed in quite a few studies - but also quite a few other studies have not confirmed the significance of the simian line in schizophrenia.

---
Introversion:
The author of this website (handresearch.com) presented in 2014 findings from a multi-perspective hand research study which indicate that heart lines with a 'flat curve' can represent a clue to low scores on the Big Five personality dimension 'Extraversion' when a set of 5 other hand factors also provide likewise significant clues. Since a simian line represents the most radical manifestation of a 'flat curve heartlines', it becomes therefore likely that a simian line represents a clue for introverversion.
NOTICE: Especially in Western societies low scores on the BIG FIVE dimension 'Extraversion' are today often associated to be less preferable compared to high scores on 'Extraversion', which again illustrates how simian line continue to get associated with a (slight) negative connotation.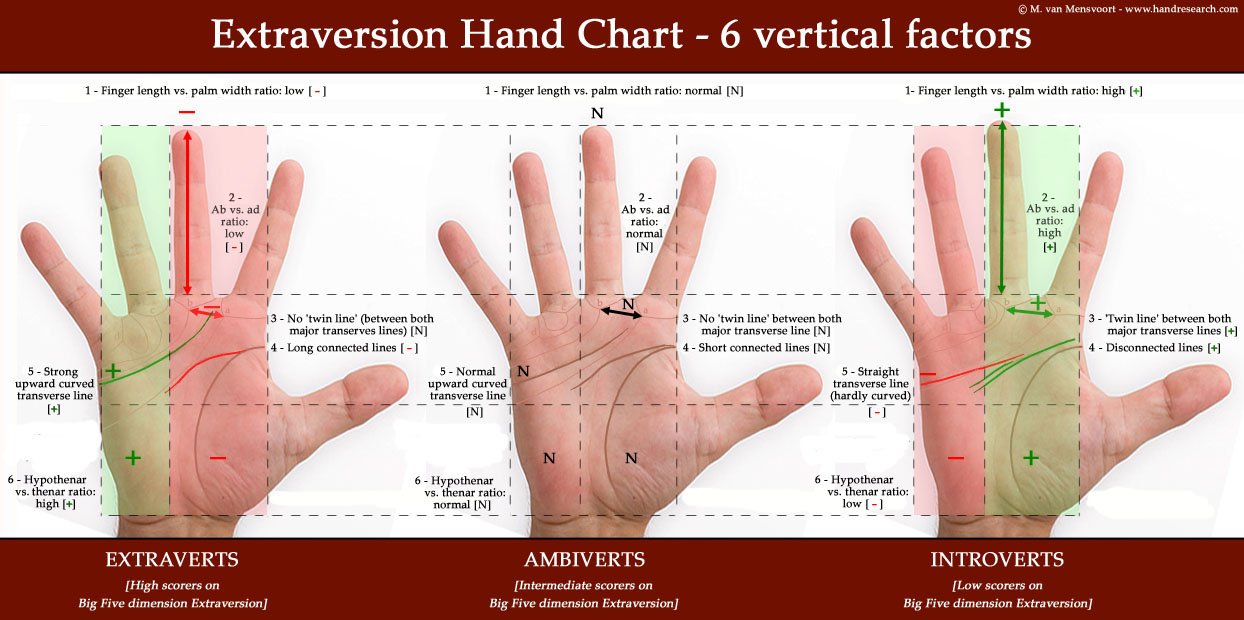 The simian line relates to hand factor 5 inside the Extraversion Hand Chart above.
---
Neuroticism:
The author of this website (handresearch.com) presented in 2003 findings from a pilot-study which indicate that so-called 'simian-related heartlines' (see the 3 pictures below) appear to be linked with one of the Big Five personality dimensions: in a small sample (4 males, 11 females) of people with a 'simian-related heartline' a high percetage appeared to have HIGH score on the Big Five dimension NEUROTICISM (when males & females grouped together: the result is significant at p<0.005).
NOTICE: According the BIG FIVE model the personality trait NEUROTICISM is associated with the tendency to experience negative emotions, especially related to: anxiety, hostility, depression, self-consciousness, impulsiveness, and vulnerability to stress..
Photos below are examples of simian line 'variants' ('click' for larger version):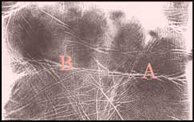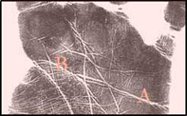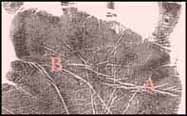 ---

According various authors of palmistry books, some common personality features of 'healthy people' that have been associated with the simian line are e.g.:
'individualistic and emotional irregular' (Japanese palmist Hachiro Asano

), 'highly introspective' (Indian palmist V.A.K. Ayer

), 'emotional extremes' (UK palmists Sasha Fenton

& Malcolm Wright

), 'intense powers of concentration' (Canadian palmist Roz Levin

), 'egocentricity' (Indian palm reader K.C. Sen

), 'gift marker' (US hand analyst Richard Unger

), and 'difficulty in getting along with others' (Malaysian palmist Yaschpaule

).
And some palm reading & hand analysis experts from the 'Global Palm Reader Network' present some interesting articles about the simian line on their websites:
•

Jena Griffiths presents: The simian crease
•

Kenneth Lagerstrom presents: The simian line
•

Larry Rodrigues presents: About the simian line
•

Lynn Seal presents: About hands: simian line
•

Batya Weinbaum presents: The simian line
Read more about famous people who have the simian line: ...more.
Next section:
• Big Five personality profiling: the simian line!